I am participating in Faith's Christmas Card Carousel again this year.
Here are my 2008, 2009, 2010, 2011, and 2012 cards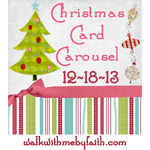 This year, like last year, I was able to get all of my Christmas cards for free! Between snapfish, shutterfly, and mixbook, offering free cards, I got 40 cards for free! All I had to pay for, was shipping. I love all of them, and tried to get similar cards at each site.
So, here are my 2013 Christmas Cards!
My Shutterfly Card
FRONT
BACK
My Snapfish Card
FRONT
BACK
And my Mixbook Card
FRONT
BACK
I really love them all, and am glad I have a variety to send out.