I'm linking up with Faith at Walk with me by Faith for her Christmas Card Carousel again this year.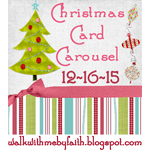 This is the seventh year I have participated. It's so fun to link up and see everyone's Christmas Cards.
I was able to get my Christmas cards for free this year through Shutterfly. I knew what pictures I was going to use, so when they started offering free cards in October, I was all ready to order mine. So happy with the incredible deal I got!
I love these cards! The pictures are from our trip to Hilton Head in May.
Merry Christmas!!